Neil Strauss
About Neil Strauss
In the seduction community, Strauss is known by the pseudonym "Style." Some in the seduction community referred to Neil, based upon his reputation for picking up exceptionally beautiful women. Later, when information about upcoming release of The Game spread across the seduction community, some considered Strauss a traitor, revealing the guarded secrets to general society and thus reducing their effectiveness (this view is not shared by everyone). Strauss abandoned his pickup artist's lifestyle and settled with a long-term girlfriend Lisa Leveridge, who played in the band Hole (Courtney Love).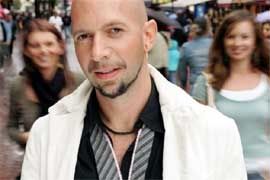 Neil Strauss photo
At the end of 2005, Strauss passed his knowledge to 5 selected followers at a three-day seminar at his California home. During the event, many legendary personalities came across to share their knowledge, including Ross Jeffries, Steve Piccus, Mystery and Hypnotica.
In The Game, Strauss tells the tale of his transformation into "Style," a pickup artist under the tutelage of Mystery a guru widely known as "the world's greatest pick up artist". The book charts two years in his life. In addition to documenting his experiences with pickup artists like Mystery and Ross Jeffries, it also describes his interactions with celebrities including Britney Spears, Tom Cruise and Courtney Love. In promoting his book, Neil Strauss appeared on various TV shows, including ABC Primetime.
Neil Strauss has released a new book, The Rules of the Game, that contains two volumes. The first is an 30-day transformation bootcamp in which you can become more socially proficient. The second is his collection of adventurous stories dubbed "The Pickup Artists Companion". Both are excellent reads.
Interview With Neil Strauss
Check out my interview with Neil Strauss.